Patient-Derived immune Xenograft Core
The Patient-Derived immune Xenograft (PDiX) core is funded by the CRUK City of London Centre based at the UCL Cancer Institute. The facility provides training tools and techniques for the generation of PDX models that contain T cell and other immune cells present in the patient's tumor microenvironment. These models will be used in the evaluation of current and novel immunotherapy agents and combination therapies. PDiX systems are generated in immunocompromised mouse models through the implantation of tumour fragments from patient samples.
The core will also provide a detailed outline of the process for procuring fresh patient tissue (biobank or clinical trial samples), sample preparation, in vivo techniques, and flow cytometry for detecting donor immune cells. The facility also provides training in short-term patient-derived explants in vitro to allow users to observe changes in immune landscape with targeted therapy if limited on sample size and quality.
Please see the Immune Regulation and Tumour Immunotherapy Group page to learn more about our research.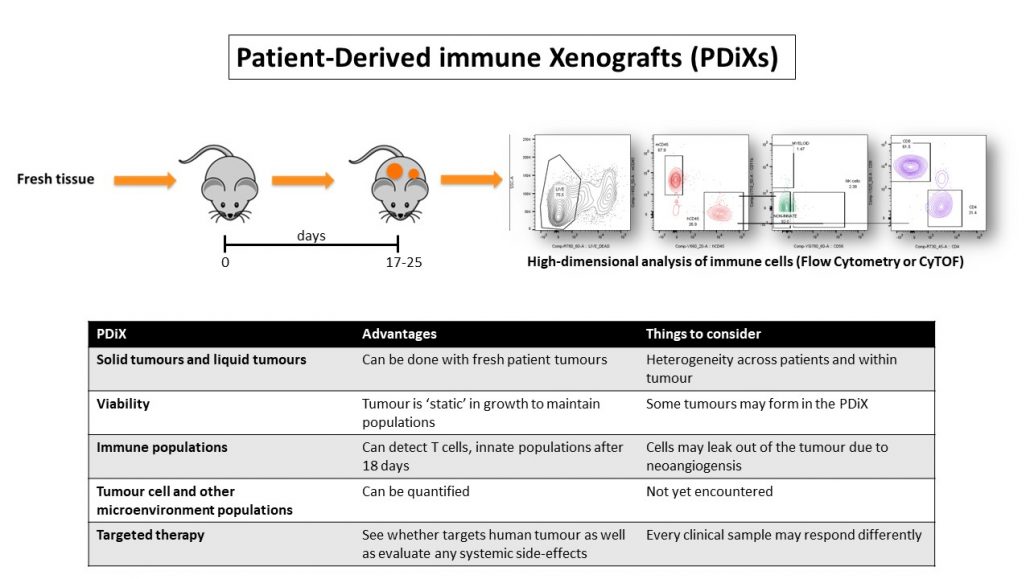 Workflow
To generate PDiX, your University/facility should provide:
Animal Facility to house NSG (NOD.Cg-PrkdcscidIl2rgtm1Wjl/SzJ) colony
Home Office Project license to allow minor surgeries (for more details please contact PDiX Specialist)
Risk assessments to work with Human tissue
HTA and GDPR certificates to handle human tissue
Flow cytometry facility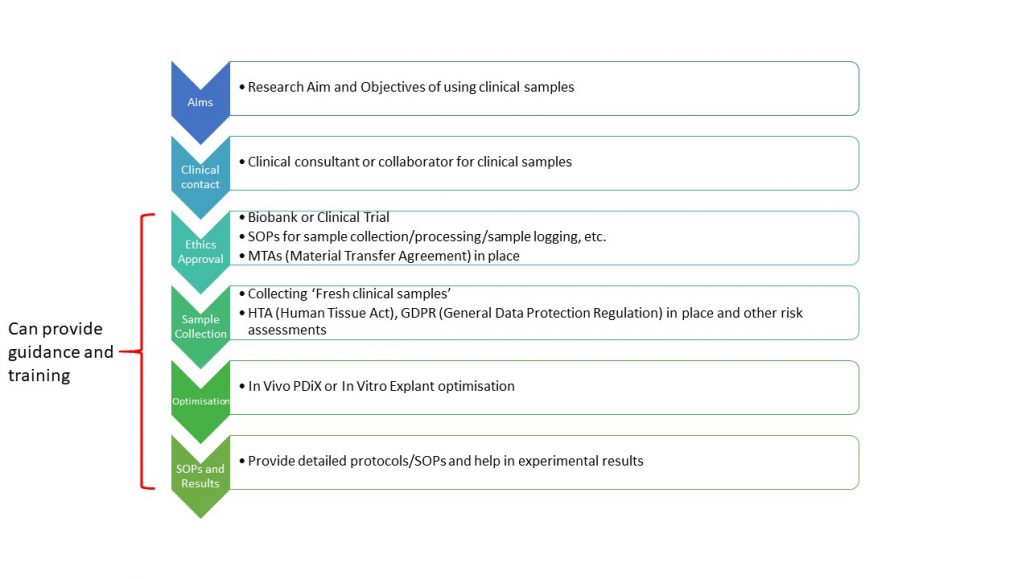 Services
The core can provide detailed SOPs to process and isolate PBMCs (peripheral blood mononuclear cells), TILs (tumour infiltrating lymphocytes), tumour fragments for PDiX.
The core can provide training on implanting tumour fragments into mouse models (minor surgery involved), treating mice with drug/biotheraptic therapies and processing tissue for end-of experiment analysis.
Additional services can be provided for training users to observe changes in tumour immune landscape using high-dimensional flow cytometry.
On-going collaborations