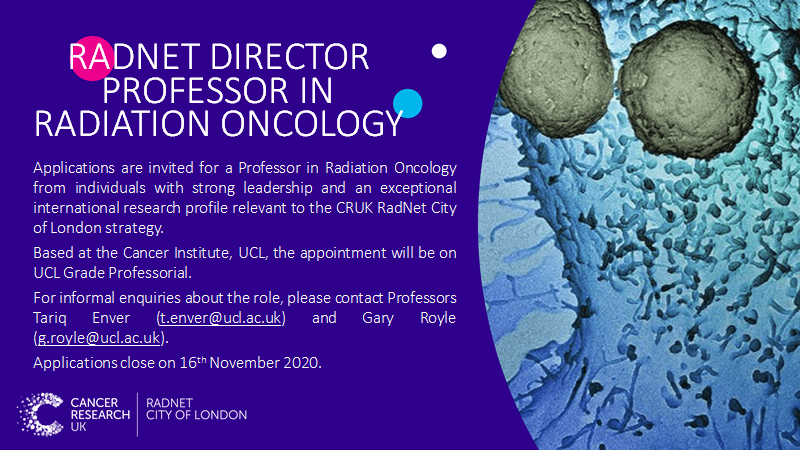 Cancer Institute – RadNet City of London
Professor in Radiation Oncology
Full Time:
The appointment will be on UCL Grade Professorial. The salary range will be Grade: 10 Professorial or Clinical Consultant Academic, inclusive of London Allowance.
Applications are invited for a Professor in Radiation Oncology role from individuals with a strong leadership profile and an exceptional international research profile relevant to the CRUK RadNet City of London strategy. We are seeking a candidate with an established track record in grant funding and high quality publications whose research agenda will attract broad-ranging high level collaborations within the wide community of UCL and beyond, and thereby strengthen UCL's reputation internationally as a leader in the field.
As part of a larger CRUK network called RadNet, the Professor in Radiation Oncology will lead and develop an ambitious radiotherapy research programme embedded within a truly world class environment of cancer research and clinical infrastructure.
The successful applicant will set out a strategy to undertake and develop an independent world-class research programme, including supervision of research staff and students, which contributes to the overall scientific mission of RadNet City of London. She/he will maintain existing and develop new collaborations in the UK and internationally thus playing a leading role in shaping the future direction and success of CRUK RadNet City of London.
The candidate with a clinical or non-clinical background will have proven ability to carry out high quality original research as well as an excellent track record of high-impact peer reviewed publications and research funding in relation to career stage and will contribute to all aspects of the academic life of the Institute, the Faculty and the University.
Candidates should also have demonstrable leadership experience within national and/or international radiotherapy organisations. Extensive experience of teaching at undergraduate and postgraduate level, mentoring clinicians and scientists in radiation oncology and/or biology, as well as an established ability to effectively manage resources, devise, advise on and manage research programmes are essential for appointment at this level.
Applicants for Clinical Director, in addition to the above, must possess:
Medical Degree
Membership of relevant Royal College and completed General Professional Training, or equivalent
Entry on the GMC Specialist Register or be within six months of obtaining a Certificate of Completion of Training (CCT), or equivalent, in an appropriate specialty at time of interview Non UK trained doctors must provide evidence at interview that they are eligible for full GMC registration and entry on the relevant Specialist Register.
For further details about the vacancy and how to apply online please go to http://www.ucl.ac.uk/hr/jobs/ and search on Reference Number 1872648
If you wish to have an informal and confidential discussion about your suitability for this post, and/or the duties attached to it, please contact Professors Tariq Enver (t.enver@ucl.ac.uk) and Gary Royle (g.royle@ucl.ac.uk).
Application Procedure:
In addition to completing the online application form, candidates should upload the following supplementary documentation:
A curriculum vitae (including list of publications).
A letter of application explaining your interest in the post (1 page maximum).
A statement detailing your research achievements to date, and your research plans over the next 12-24 months (1 page maximum).
The names and addresses of three referees who are experts in the field (including at least one referee based outside the candidate's country of residence).
Details of current salary.
Please note the online system will accept up to two attachments, so the documents should be merged. If you have difficulty uploading any documents please send these instead to Manuela Rossini manuela.rossini@ucl.ac.uk
For Clinical Director, in order to confirm the clinical aspects of the role, a further stage is required which consists of: Developing Job Description which will include an indicative job plan and clinical commitments JD Approval from the relevant Royal College
Second formal interview with a UCL/UCLH Trust panel which will include the relevant Royal College representative
Closing Date: 16/11/2020
Latest time for the submission of applications: 23.59.
Interview Date: TBC
We particularly welcome female applicants and those from an ethnic minority, as they are under-represented within UCL at this level.
Our department holds an Athena SWAN Silver award, in recognition of our commitment and demonstrable impact in advancing gender equality.
To apply click here: https://atsv7.wcn.co.uk/search_engine/jobs.cgi?amNvZGU9MTg3MjY0OCZ2dF90ZW1wbGF0ZT05NjYmb3duZXI9NTA0MTE3OCZvd25lcnR5cGU9ZmFpciZicmFuZF9pZD0wJnZhY2Zpcm0udmFjdGl0bGU9UHJvZmVzc29yJnBvc3RpbmdfY29kZT0yMjQ%3D&jcode=1872648&vt_template=966&owner=5041178&ownertype=fair&brand_id=0&vacfirm.vactitle=Professor&posting_code=224